Alternative Lending Companies Miami
Private Lenders near me
Alternative Lenders Miami
Alternative lending for real estate has been around for decades and it utilized by people and corporations that get loans from non traditional methods. There are some great benefits for alternative lending, this includes: flexible options and providing more people the opportunity to qualify for a mortgage.
Alternative lenders work with title companies that are providing Transactional funding to real estate investors that are providing double closing's for real estate. To explain what a double closing, the buyers and sellers in the transaction are designated by the letters "A" (original property owner and seller), the investor "B" (both a buyer and seller), and the final buyer "C" who will be the final owner of the property.
It is also called Same Day Real Estate Closing or Double Closing because the actual time of this real estate transactions should happen on the same day. Depending on which state the property that is being sold is located in, different title companies may have different requirements to handle a flip. Once all the money and docs are in place for both transactions, they finish the transactional funder will fund the transactions to the title company handling the A to B transaction. Once the funds are received both transactions should close simultaneously and the transactional funder is paid back and the investor makes their profit.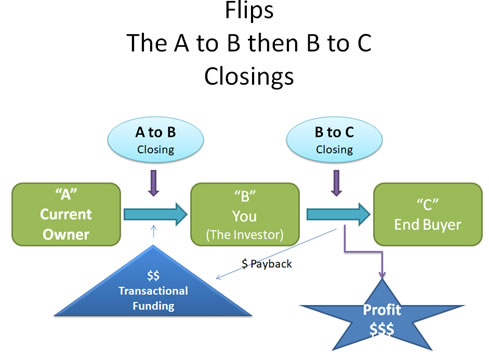 What's In the News
The National Association of Real Estate Brokers
The National Association of Real Estate Brokers (NAREB) is a trade organization and network of Black real estate professionals known for promoting "democracy in housing" and advocating for public policies that "protect and expand sustainable homeownership."
The organization's members, who go by the title of Realtist, are spread throughout chapters across the United States. NAREB's Realtist membership includes real estate brokers as well as professionals from other disciplines within the real estate industry such as mortgage brokers and appraisers.
"NAREB is the premier network of Black Real Estate Professionals," NAREB President Lydia Pope said. "Our purpose is to enhance the professional and business conditions of NAREB Realtist members by strengthening the consumer capacity of Black, minority, and emerging target market segments that our Realtists serve."